Dave Becker is an author and artist living in Pennsylvania, trying desperately to avoid all plagues, curses, and monsters. THE FAUSTIAN HOST is his first novel.
Favorite reads?
My reading tastes vary greatly. I jump from popular thrillers to science journals to children's books to theological/philosophical works to classics to historical nonfiction and then back again. I'm usually always reading something classic and something current.
Inspirations for the book?
THE FAUSTIAN HOST is a blend of dozens of ideas I've had over the past few years. The original catalyst was the approaching of 2012 and all the end-of-the-world craziness. I wanted to create a world that was falling apart and a group of kids that were strong enough to handle it.
Did you know you wanted to be an author when you were little?
I knew I wanted to be an artist when I was little. As I grew older, I realized that writing was just another form of art. In college, I had a copywriting class that was taught by a local novelist. After reading some of my assignments, she approached me and suggested I become an author. That was the first time I seriously considered it.
What are your top Pet Peeves?
I hate a lot of things: bananas, dogs, shoes, infomercials, plastic packaging, all tobacco products, cats, turtlenecks, fingernails, vegetables, tractor trailers, Twitter, anything on my hands, unalphabetized collections of anything, Libya's flag, three-tined forks, urinal cakes, radioactive decay, and most people. I have a friend who started a Hate List for me after realizing I precede many comments with the words "I hate." Within one week, he had amassed six pages, two columns per page, front and back, very small writing. Maybe I need help.
Chocolate or Peanut Butter?
Chocolate, but if you're throwing in peanut butter, I'll not turn it down.
What's the weirdest thing you've ever done?
I ran for president on an anti-penguin platform. You can read all the insanity here:
http://davebeckerdesign.com/penguin/index.htm
Is there a soundtrack to the book?
I don't always listen to music while I write, but I really, really like Disturbed, and I could imagine their music fitting nicely with the scrolling credits of THE FAUSTIAN HOST movie.
Do you need anything to write?
My laptop and three hits of acid.
How long do you write on any average day?
My "real" profession is a freelance graphic designer and marketing consultant, so some days I don't write at all. I usually can't write for more than three hours at a stretch without a break.
Give us the number one reason to read your book.
"Very strong writing and a fascinating concept that avoids all the usual contemporary paranormal tropes." That's a quote from an editor at a major publishing house (who ultimately felt that they just couldn't justify taking a risk on an unknown author).
Author Info:
Website:
http://www.davebecker.com/
Facebook:
http://www.facebook.com/pages/Dave-Becker/162484160539398
Goodreads:
http://www.goodreads.com/davebecker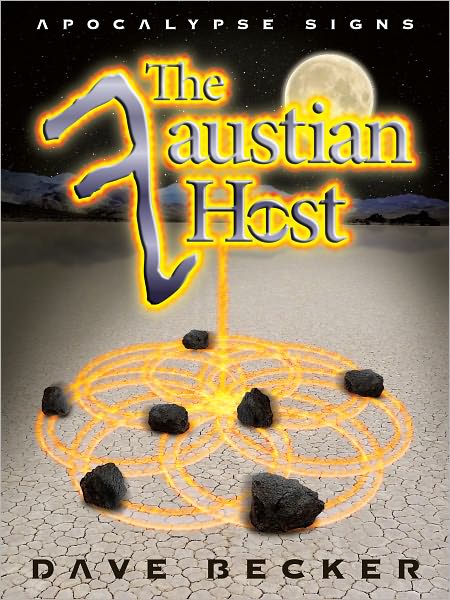 Plymouth Rock is bleeding. Day has turned to night. Hundred-pound hailstones level buildings. The small town of Clement seems cursed, and the residents know who's to blame: the new kid, Tony Marino.
After losing his family and his home, 14-year-old Tony is forced to move from Florida to Massachusetts to attend Kalos Academy, an unconventional school for gifted children. Strange things begin to happen the day he arrives, and soon stories of plagues, monsters, and mystical objects surround him. Refusing to believe superstitions, Tony struggles to explain the occurrences logically, until he comes face to face with a satanic cult determined to bring about the end of the world.
(Ends 5/12)
US Only
One lucky winner will receive one of only ten existing promotional paperback copies of The Faustian Host!